Skill for Self Reliance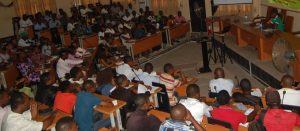 Under PASDO's Conservation, Information, Leadership and Skill (CILS)-literacy project, PASDO offers training in various vocations like:
– Solar PV Installation and Maintenance
– Installation of Reinforced Tarpaulin Ponds
– Modern Fish Farming
– Business Plan Development
– Fashion Design/Tailoring
– Decoration and Events Management
– Catering, Hotel and Restaurant Management
– Interior design
– Organizational/Leadership Skills
– Photography
– Blogging
– Web design
– Graphics design
– Etc.
Attendance to these courses are at a fee. Feel free to always contact us should you have any inquiry.
ReHFLaW (Reducing Household Food Loss and Waste)
Food loss is a major problem in Africa, where almost half of the food produced is wasted at the post-harvest and household levels.
Cooling devices like freezers are a good way to store food, but unfortunately, electricity supply required to run such devices is usually very expensive, epileptic or totally unavailable in most parts of Africa.
Mission
To promote food-storage equipment that are powered by renewable energy (like solar powered refrigerators and freezers) in partnership with Benuwatts Company Limited and other stakeholders.
Expected Results:
1. This project will enhance food security by reducing food waste and easing hunger
2. Reduce carbon footprint through the deployment and use of solar devices (as against
3. Save greenhouse emissions that would have resulted as a result of waste food.
The Waste & Resources Action Programme (WRAP) UK, estimates that every ton of food wasted results in 3.8 tons of greenhouse gas emissions.
SASWeCA (Sustainable Aquaculture Supply in West and Central Africa)
Objective:
Propagate affordable and innovative fish farming methods to help increase availability and accessibility of fish (and fish products) so as to combat malnutrition and promote food security in West and Central Africa.